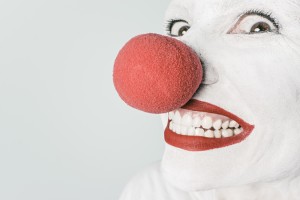 and no, clowns aren't one of them…
I think I am a fairly happy person. I am blessed to have wonderful people in my life that make me happy. I also have a few other things that make me happy and here they are:
1. A hug from my grandkids. An added bonus is if they say "I love you Grammy" while hugging me.
2. Exercising. I know this usually isn't fun and there are days when I don't want to do it, but it does make me feel happy when I am done! And then I don't feel so bad eating that bowl of ice cream.
3. Food..any kind of home cooked meal, meals made by someone other than me, the afore mentioned ice cream and a good cup of coffee( I know coffee isn't food)..also a good glass of Moscato( I know this isn't food either)
4. The Beach, the smell of the sea, the feel of the sun and spray of the ocean on my skin and just way it relaxes me like no other place on earth.
5. My friends, getting together with them for lunch or dinner and talking and laughing about stupid things. Even texting or chatting with them on Facebook.
6. Spending time with family, especially my kids, my grandkids and my nieces.
7. Shopping. Anyone that knows me knows I love to shop! (note:I must really love it because I write out my blog on paper before I write it here and had shopping down twice). I absolutely love the thrill of finding a bargain. I guess I got that from my Mom.
8. Writing. My new favorite pastime. I always loved writing and even did it from time to time in years past. But since I retired now I have more time to concentrate on it and am loving it even more! It brings me so much joy to put my thoughts down on paper. It's good to finally have an outlet for all the things I have been carrying around inside my head!
9. Dancing and music. Live music most of all. I used to go dancing at least once a week or even more. I haven't danced in so long I don't know if I still can. I plan on changing that this year! Who's up for dancing?
10. And finally my new Happy Light! I know I have some degree of "SAD"..because I get very sad when we have shorter days and less sun. So I read up on these lights and got one and I must say it does make me "happy."

"Happiness is like a kiss. You must share it to enjoy it" ~ Bernard Meltzer  I hope I do!
What makes you happy?