There are actually way more than 10…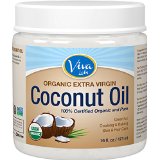 I love Coconut Oil. I love to cook with it, take it everyday by the spoonful or use it as a treatment when I need some TLC for a certain issue. Here are some of my favorite ways to use it and why.
1. Take a spoonful everyday. It has wonderful antibacterial properties. Doing this daily can help with a lot of issues. Candida, kidney stones, liver problems, IBS and other digestive problems. Please consult your Doctor first if you have any serious issues.
2. Put it on your skin everyday. It is a great sunscreen and also very moisturizing. It is also not extremely greasy.
3. Use it for cooking. You can use it just like any vegetable oil. It is more easily digested than other oils and contains the "good" saturated fats the body needs. Because of this it is good for your heart. And it makes some very tasty scrambled eggs.
4. Put it on your feet. It has anti fungal properties so it is good for athletes foot or toe nail fungus.
5. Coconut oil can be a great help when you are trying to lose some weight. If you are craving something, like ice cream(just as a for instance, not saying I ever crave this) take a spoonful of coconut oil instead. For some reason it satisfies the craving. It also helps with digestion, due to its antimicrobial properties, which can also be a help with weight loss.
6. It is a wonderful mouth rinse. It has been shown to prevent cavities and heal gums.  My gums have been healthier since using this and my daughter in law has not had as many cavities as she has had in the past. Just take a little bit and swish it around your mouth for a few minutes and then spit it out. Follow up with some water and spit that out as well. You should do this for at least 10 minutes, but any time you spend doing it is better than not doing it at all.
7. Great as a massage oil for pain. I recently had my back go out so I put some peppermint oil, frankincense oil and coconut oil in a bottle and rubbed it on my back. It really alleviated the pain and helped with the healing of the muscle. And it smelled good too!
8. Coconut oil can be a wonderful stress reliever. Rub some on your forehead if your are feeling stressed out or have a headache.
9. It has recently been shown to help Alzheimers patients. Some studies have shown it has increased brain function and slowed down the process of alzheimers. I don't know about you but I need all the help I can get with increasing my brain function.
10. Coconut oil is wonderful for your hair and scalp. You can massage some on your scalp and then shampoo as usual. Also put a little on after hair has dried to tame down any frizzies and help with dry hair. It has also been known to help with preventing head lice.
There are a lot of other things coconut oil can do for you. But these are my favorites and ones I have tried and worked for me. If you want to buy some you can click on the jar below. It takes you to Amazon and my favorite brand.
As always I am not a physician, so if you have any serious issues please consult your doctor before trying this.
Thanks for reading and good health!