How often did you hear that as a kid?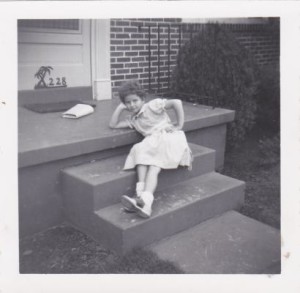 When I was a young girl about the age I was in this picture, people started asking me the question, "What do you want to be when you grow up?" I never hesitated even for a second. I always said I want to be a nurse, for no other reason than my Aunt Norma was one and I thought that she was very cool. Also, I loved my doctor and I watched Dr Kildare. What did I really know about nursing or what a nurse really did? But it looked very exciting and romantic on tv.
Around the same time I started writing a novel. It was called "I Walk Alone" and was set in Paris. I was the lead character, of course, and also, of course I was beautiful, tall and fashionable. And had long straight hair. None of which I had or was in real life. I met a man(in my novel) and he was handsome, rich, famous and mysterious. And he lived in Paris. I have never met a man who was any of these things in my life with the exception of mysterious and believe me, that is not a good trait in a man for which you want to form a relationship. Ok, I have had a few boyfriends and a husband that you could call handsome or at the very least cute.
I never finished the book. I found it recently as we were going through things in my parents home. I found all my writing materials. They were all in a box in my parents attic. My past desire and childhood dreams all together in one box. The children's books I wrote when my kids were little. Books I had tried desperately to get published to no avail. I took a "Writing Children's Literature" course and thought surely I was going to be the next Dr. Seuss.
Sadly, the being "the next Dr. Seuss" thing never happened. My kids loved the stories and still talk about them to this day. So guess it was worth it. Sadly, life got in the way of my dream of being an award winning novelist, as life has been known to do. By this time, I had gotten divorced and 3 kids and as many jobs didn't lend itself to much time for writing. But finding the box that day brought it all back. The hopes, the dreams..the book signings.
I am finally writing now, some 50 years after that first novel I attempted to write. Not to be a best selling novelist or the next Dr. Seuss, but for me. I write because I love to write and because it fulfills something deep inside me that has always wanted to get out. I don't know, maybe it's a need to be "heard". Really heard..
Growing up I don't think my parents ever really listened to me when I talked or spoke of my dreams. In reality I don't think they had the time or they just really didn't know how.  I have always tried to listen to my family and friends and even to just anyone who was talking to me. Maybe my ability to listen has given me the ability to write. I know I have a million stories inside me waiting to get out. And I am thankful I can finally do just that!
As a side note, I am glad I didn't become a nurse. I don't think I would have been a good one.. I am not a fan of blood and gore and all the stuff that goes along with nursing..and honestly, white has never been my color.
What do you want to be when you grow up?