What exactly does this mean?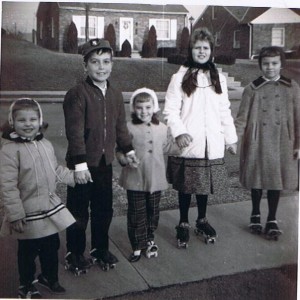 This is a picture of my first friends..my neighborhood friends. There were a few more that aren't on this picture like my friend, Jan who lived in the house pictured behind us. Two of the kids in the picture are no longer with us, one is my sister Rhonda on the far left and Judy, on the far right, who has also passed. It makes me happy and sad at the same time looking at this picture.
When I was in Brownies we used to sing a song called "Make New Friends". I never forgot it. My grand daughter told me they still sing it at her girl scout meetings. For anyone who wasn't in Brownies or Girl Scouts it goes like this. "Make new friends, but keep thee old…One is silver and the other's gold." I believe this to be very true. There are many different kinds of friends. Some of them are Silver and some are pure Gold..
I have made many friends over my time here on earth and I am blessed with some of the most wonderful people that I call my friends. But there have also been people that came into my life at different times and they are no longer in my life. I've had quite a collection of awesome friends at many of the jobs I have had in my working career. They seemed to come in to my life when I needed them and we had so many things in common and then when I left the job and moved on so did the friendships. I don't know why this happens and sometimes we really try to keep those friendships going but life seems to get in the way.
I have recently found a few people from my past. Friends from long ago, granted we were different people then but as soon as we talked, it was like yesterday and no time had passed at all. I also have reconnected with some of my friends from high school and I seriously don't know what I would do without them. We are all going through the same things at the same time. Losing parents, taking care of parents, grandchildren, health issues and so many other things. Sometimes, after a conversation about health issues we laugh at ourselves and say, "who would have thought we'd be talking about this."  But we have a bond, a connection and we can talk about many things we can't talk about to anyone else.  These friendships have sustained me through some very dark times recently.
I have friends that live near by and friends that have moved many miles away. One of my best friends just moved a thousand miles away and it makes me sad not to be able to pick up the phone and say, lets meet for lunch today. But we are still the best of friends and always will be. There is no doubt in my mind of that. A few thousand miles can not take away the friendship we have and another reason is…she knows too much… What is a true friend and how do you know it will pass the test of time? I'll tell you..When you are puking your guts out after a long happy hour (this isn't for just a few minutes, more like hours) and they aren't angry at you, in fact they are holding your hair so it doesn't get puke on it…then you know you have a lifetime friend.
So people may come and go in your life. Some people may be friends for a short time and some for a lifetime. And some people are just friends on Facebook. It doesn't make them any less a friend. Our lives are better for having them in it. I know I am blessed to have these people I call friends in my life and hopefully they feel the same.  I love them all and am grateful every single day that they are on this journey with me. They are Gold! I hope they know that.
"There comes a point in your life when you realize who really matters, who never did, and who always will." – Unknown